Let's talk mental health (and let's make sure we follow it all the way through)
As a society, we're at a really promising turning point in the way we talk about mental health. With mental health issues becoming more widely recognised, these conversations are becoming louder than a whisper, and awareness campaigns on this subject are grabbing more and more attention. In the UK we are at a crisis point – 1 in 4 people are estimated to experience issues with their mental health every year, making this one of the biggest health issues we face this decade.1
It's inspirational to see renewed efforts from large businesses, such as Lloyds bank. Earlier this year they were awarded £1m free airtime on Channel 4, in order to put their #GetTheInsideOut awareness campaign out into the public eye.2 Interestingly, according to a recent study by Mental Health UK, 72% of those surveyed reported that the openness of celebrities and media coverage such as this campaign, has not only led to a better understanding of mental health, but has also significantly contributed to improvements in this space.3
While it's great to see so much awareness being raised, I wonder ­– is it enough? Are we really engaging the public in understanding more about mental health? Are we truly empowering them with the tools they need to improve not only their own lives, but the lives of others? And if not, what else can we do within the marketing space to make sure people receive the support they truly deserve?
Recently at a pub, I saw some ads on coasters reminding readers to get in touch with friends who have been a bit distant ­lately.  Although simple in their design, the importance of their message was clear – something as simple as a friend not coming to the pub anymore could mean there's something else going on. This clever leave-behind was produced by the mental health advocacy group Time to Change, in a bid to raise awareness about men's mental health.4 The photos you see here went viral on social media almost immediately.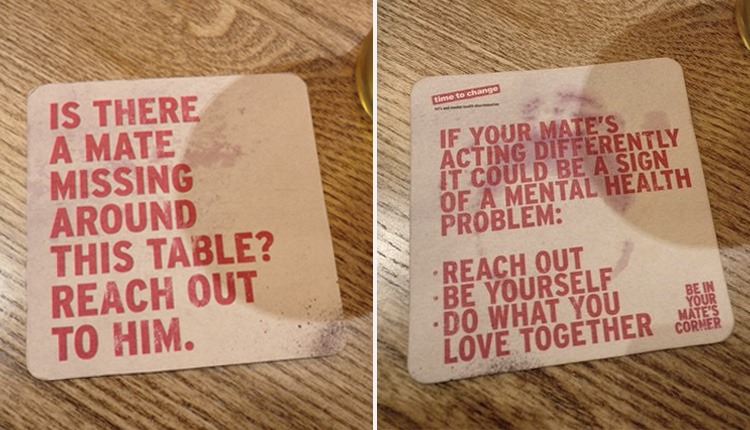 The importance of messages such as these cannot be underestimated – suicide remains the leading cause of death for men under 49, and kills three times as many British men as women.5,6 Although there remains a lot of stigma around men opening up about their feelings, simple messaging like this can help them to open up, improve conversations about male mental health, and potentially save lives. With more awareness, comes more acceptance and support from our community, it can inspire people to start those difficult conversations with their friends and family.
However, the thing that bothers me is that all of this awareness doesn't seem to be backed up with the opportunity to seek professional help. Where are the adverts to let you know that it's okay to reach out not only to a friend, but a doctor? Of course, no one wants to see a loved one suffer alone; friends should always feel like they can talk to each other and we all want to help in any way we can. But we're not professionals. We don't get to detach from the situation at the end of the day and carry on with our lives – we worry.
__________________________________
Speaking from my own experience, it's hard to receive the call.
"I can't do it anymore."
It's difficult to explain how it sounds to hear someone who's given up. It's something I wouldn't wish upon anybody. Fortunately, this is a call I'd received before and I knew how to deal with it ‒ too many people in my life have struggled with their mental health and found nowhere to turn. Every time I have received a call like this, I am incredibly grateful that they have felt they could turn to me. I've talked 3 friends down from the darkest of places in my somewhat short 22 years on this planet, and it's something I hope I'll never have to do again.
With this said, sometimes just being there isn't enough. It wasn't easy telling my friends I thought they needed help – I felt like I'd let them down and worried they'd think I thought they were crazy. But I knew it was the right thing to do; I couldn't give them all the support and advice they needed, and as much as I tried to be available at any given time, it's not always that easy. So in the end I was just honest.
"You know I'm always here for you and I will support you in any way I can. Have you considered talking to someone? Have you been to see a doctor?"
__________________________________
So where do we draw the line between where someone should be seeking support from their friends and family, and when they need to seek expert advice? How can we support those who know of someone who is suffering, and help them understand that although it's okay to be there for them, it's also okay to admit that they are out of their depth? And how do we communicate that advice to the wider world, so that everyone gets the support they deserve?
The message that is missing from the bigger picture at the moment begins with empowerment. It's about educating those who know they aren't coping to speak out. Encouraging their friends and family to learn more about the best way to provide the best support (be that professional or not). We've already started to get people talking about mental health, but now it's time to educate them on what to do next.
These innovations don't need to be complicated – it could be as easy as adding the number to a professional helpline at the bottom of every awareness advert. It's not intrusive, but it sends a powerful message to the readers, "if you or a loved-one need it, we're there to help." It can be as simple as a number for the Samaritans, but it should be the responsibility of every communicator to make sure this happens.
In previous years, there have been a number of successful campaigns in which, surprisingly, this information has not been included. Take Instagram's #HereForYou campaign – one of the most wide-spread mental health awareness initiatives of 2017.7 The insight for this campaign was inspiring – using their well-established media channels, they encouraged their users to open up on their own mental health experiences, and got conversations flowing. What was missing, however, was that all-important follow through – a simple link to a support helpline, so that anyone who was seeking further help could find it.
But perhaps links to support are not enough. Quite often, those that have been struggling for a while are aware that they need some expert help, but they might be scared to go looking for it. They might be scared because of the stigma still attached to mental illness, they might be scared to open up about problems they have buried, or they might simply be scared of the unknown. So maybe we need to empower them to find that help, and let them know it's okay to talk about it.
Maybe the next awareness campaigns need to break down the stigma surrounding the different treatment choices for mental conditions. Perhaps initiatives such as sharing case studies of people who have benefitted from different treatment options, may help bridge the gap between talking about it and the road to recovery. The openness and honesty of stories, such as that of Mandy Stevens, an NHS mental health services director who suffered her own breakdown, leave a positive message for those on the verge of seeking help. For me, Mandy's story was a huge inspiration, and her transparency on what treatment she sought when she collapsed shows others that these services can really help.
Finally, we should consider what we can do to improve the lives of those who have loved ones that are affected. It's not for a want of trying that prevents people from being there – quite often they just don't know how. Perhaps we need to offer them more practical advice, build a mental health first aid kit, which equips them to be there for others when they need it. Raising awareness about what to look out for and how to support loved ones through crisis points can help us to be there in the way that they need us, and could empower us all to take more proactive steps in managing our own mental health.
Starting a conversation only takes a minute. If you need someone to talk to, for yourself or a loved one please reach out.
Jasmine Matthews
Junior Designer
Working in healthcare gives what I do purpose. Growing up, I always wanted to work in healthcare – to make people's lives better somehow. Unfortunately, I learned pretty quickly that classroom science wasn't my forte. My expertise is rather more artistic. I may not be discovering miracle cures, but I'm helping to bring to market the products that do. And I think that's pretty darn cool.