We can hardly believe it's October already! As you may or may not have noticed, this month is Breast Cancer Awareness Month.
As COVID-19 continues to loom large in the public attention, and 2020 has appeared to merge into one, weird month, it can be easy to forget about these awareness months entirely.
But just because our focus has been elsewhere doesn't mean other health issues are any less pressing. And in fact, many illnesses have been exacerbated by healthcare systems switching focus.
Cancer's Covid problem
Referrals for cancer fell a rather scary 75% over this year.1 Breast cancer screenings, diagnoses and treatments have all been disrupted due to coronavirus. Research conducted by breastcancer.org found that around 30% of women questioned chose to, or considered, delaying their own breast cancer treatment due to COVID-19 concerns.2
On top of this, charities have been hit hard by the financial fall-out. Without fundraising as usual – cancelled events, streets empty, and many facing financial worries – it has been very difficult.
All of which means that Breast Cancer Awareness Month is arguably more necessary than ever. So what can organisations do to boost awareness?
Make it accessible
We're not just talking about creating an App – though that certainly is part of accessibility.
To make people want to engage with your cause, we think it's wise to speak to people on their level, in their language. That's why we love what Keep A Breast are doing.
Their design is fresh, modern and entirely accessible. It's something you're more likely to relate to fashion, or a fancy iced coffee coming to your local Sainsbury's.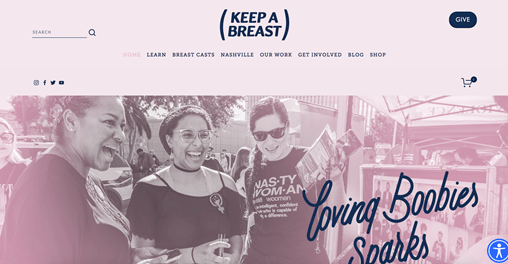 Their branding works on an unconscious level to engage visitors. Unlike more traditional austere 'healthcare' branding – that can strike up certain feelings like fear, negativity or discomfort – Keep A Breast's more FMCG feel is detached from these associations and feels positive.
But even more than this, Keep A Breast offer their audience value. A super easy-to-understand App for self-checking, an online gallery of gorgeous artist-painted breast casts to admire or purchase, online fitness classes to help with cancer prevention, and articles dedicated to often-neglected topics such as black women and breast cancer, and the LGBTQIA+ community and breast cancer.
They're making breast cancer awareness far more accessible, in a way that connects with younger audiences and anybody who has felt left out of the breast cancer conversation.
Get in their heads
Many women – myself included – rarely remember to carry out checks for lumps or abnormalities. Life gets in the way. So, to change behaviour and drive action, brands should insert themselves into the right moments in life. Like the shower.
Knowing that many women only get a good feel of their boobs when they're washing, Lux soap created a bar with a difference.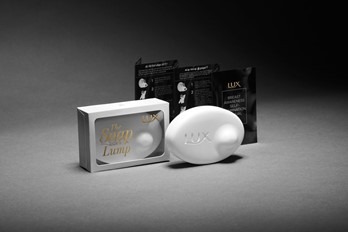 The Soap with a Lump is exactly that. Formulated with the help of technical experts and a leading oncologist, it was launched as a gentle reminder and encouragement for women to check their breasts for lumps, bumps and abnormalities while bathing.
Creative, simple, powerful, and based on an audience truth. What's not to love?
Capture the moment
As I mentioned, charities have been truly thrown off course due to coronavirus. Attracting attention and keeping donations rolling during a very financially unstable time is not an easy task.
Fundraising efforts that are of-the-moment and really relevant will be the ones who excel. And that starts with insight about our 'new normal'.
Many people have been getting far more familiar with their sofa. In response, we've seen fitness-based fundraisers explode in popularity. They let people do good while also fulfilling a desire to make up for lost gym sessions.
Breast Cancer Now had to cancel their annual Pink Ribbon Walk due to coronavirus, but instead they're offering more socially-distanced alternatives within families or solo challenges around the local area.

We've also seen some brilliantly clever fundraisers asking people to donate money they would be spending on their commute, on haircuts they've missed, and even what they'd have spent on cancelled birthday parties.
If you'd like to support Breast Cancer Awareness month, please do head to Breast Cancer Now to find out how you can get involved.
[REFS]
https://www.bbc.co.uk/news/health-52382303
https://www.breastcancer.org/treatment/covid-19-and-breast-cancer-care#breastcancer