Finding the right words when things have gone wrong is not an easy endeavour.
In the grand scheme of things, marketing communications are not important to people right now. But, as a healthcare copywriting agency, we know the way that brands speak to the world will be remembered when life returns to some semblance of normal.
Watch your tone
Life at the moment is uncertain, stressful – terrifying for some. As a brand, you need to be sensitive to that in your copy; avoid sounding flippant and over-dramatising.
However, don't be tempted to throw your tone of voice guide out of the window and lose the brand personality that you've spent years building.
If you're known for your witty tone, stay true to it. If customers love your conversational down-to-earth style, maintain it. You may just need to slightly adapt it to the strange new context of COVID-19.
An example of a brand doing that really well is (no surprise) Innocent.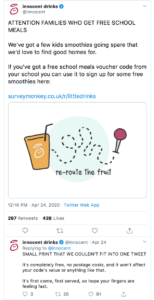 Why does their copy work?
They've kept their tone light and characteristically 'Innocent'
Despite this, they don't sound glib or inappropriate
The copy is direct and gets straight to the point, with no waffling introduction about the 'current situation'
As an extra-special mention, they've used copy to position the scheme as families doing Innocent a favour by taking their 'spare' smoothies, rather than expressing pity for hard-up families or sounding smug about their good deed.
We also tip our hat to Nike's latest campaign. Though gyms and sports facilities are closed, and we're all largely confined to our home, their Just Do It mentality hasn't wavered. Rather, it's been recalibrated.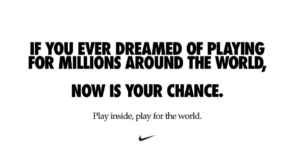 Instead of persuading people to get out and Just Do It, Nike is asking people to 'Play inside, play for the world.' It imbues people's safe home workouts and social-distance runs as working for the good of people across the whole planet. It's just as motivating as ever, while also having a lovely sense of unity and responsibility.
And of course, and honourable mention to Channel 4's hilarious "Important Safety Announcement for Your Arse," which told us all to stay at home – very serious information­ – in a delightfully cheeky way.
Don't follow the crowd
Getting copy wrong during a crisis can be so easy and very damaging. So, as a healthcare copywriting agency, we do understand why brands would want to play it safe with copy.
While we're all for choosing words sensitively, we'd warn against parroting what everyone is already saying.
The first time a brand said 'we're here for you during these uncertain, unprecedented times' it was warm, understanding, reassuring. But now that countless brands have said it, it has started to lose meaning. It sounds like a cookie-cutter regurgitation, and now is not the time for empty words.
IKEA certainly didn't follow the crowd. With stores closed in Israel, they transformed their catalogue into an activities and colouring book for the whole family. IKEA product illustrations feature in the games, but without pricing or CTAs, leaving recipients to be entertained without pushy sales. Clever, helpful, memorable ­– a job well done.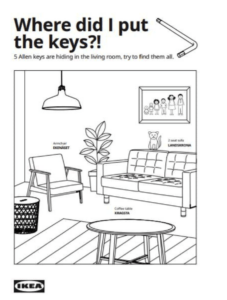 Brands: mix it up and be creative with your message. And if you're putting a communication out there, make sure you actually have something to say. How are you supporting people? What are you doing to make things a little better? You have a chance to be remembered, rather than blend into the crowd, so use it wisely.
Sometimes, the best thing to say is nothing
For some brands, as frustrating as it may be, heavy marketing is simply not a good idea right now.
Members of our team are still regularly getting emails from travel companies, asking us to pick our next destination. Of course, we'd love to – should we have any idea when oversees travel (or any travel at all beyond a weekly trip to Tesco!) will be possible. And, being as many customers are being ignored as they plead for holiday refunds that they've waited months for, it seems plain wrong to be sending sales comms at all.
Marketing as if everything is normal can do your brand more harm than good. You don't want to be remembered after this as a tone-deaf, flog-at-all-costs kind of business. Especially when many people are more stressed and cash-strapped than they've ever been.
In these instances, silence really can be golden. Jackpot Joy and Virgin Games, two gambling sites, have decided to cancel all TV and radio advertising due to COVID-19. Considering people are stuck at home and looking for entertainment, it seems a very brave move as they stand to profit from advertising. But with many having money worries caused by the illness, we think it's a very responsible decision to suspend activity. Gambling companies don't often have a reputation for being ethical companies, so this move could help their reputations for years to come.
Our copy and content creators are experts at approaching the most delicate subjects and communicating even the most niche message.
If you'd like to discuss anything in this blog or are keen to elevate your copy, please do get in touch.