With conference season fast approaching, you're probably busy sorting the logistics of your booth, finalising the speakers for your symposium, perhaps making sure your new product is ready to launch.
You're probably bringing the same kind of set-up as you do every year; pull-up banners, a demo or two, flyers and branded pens to hand out.
But with tens or even hundreds of brands around you, it's hard to shout about the crowd and easy to get lost amongst it.
As a specialist healthcare branding agency we're here to tell you that your event presence can be much more creative, exciting and engaging; leaving people talking about your brand and sharing your enthusiasm. And it needn't be a headache or break the bank.
Let us take you on a journey through how to own any event space.
Experiential marketing at healthcare events
The reason so many conference stalls and booths tend to blend into the crowd or be forgettable is because they lack a strong underpinning creative concept or theme.
A creative idea should run, like a golden thread, through everything from your booth configuration to pamphlets to social posts. Just as it does throughout your marketing campaigns. It's the difference that takes you from bland to brilliant.
Our client, Kuros Biosciences, wanted to make an impact at NASS 2019 (North American Spine Society) with their new flagship bone graft, MagnetOs.
Combining notions of connection/linkage with progress and innovation, we chose the creative theme of climbing to infuse Kuros' booth design. This influenced our choice of:
photography (climbers at the peak of summits)
adventurous, inspiring copy
walls of the booth being studded with climbing wall shapes
the giveaways (we attached info-rich USBs to carabiners).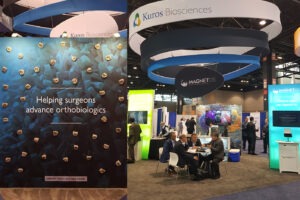 The result was a unique and cohesive brand experience that made people want to find out more about Kuros and MagnetOs.
Stop following the crowd
Chances are, if you're in healthcare, 80% of the people in your conference are going to have similar booths and assets. Similar posters, similar pamphlets to hand out, similar booth configuration.
But if you want to be noticed, you don't want to be part of that 80%.
For example, if your competitors seem to all be jumping on the AR/VR trend, don't follow suit unless your product or service really lends itself to that technology. Why not go low-fi and create something beautiful and tactile instead? If all your competitors are doing simple pull-up banners, why not use ceiling hangers or dynamic units that rotate?
Another of our brilliant clients, ConvaTec, tasked us with securing footfall and a sell-out symposium at the European Wound Management Association (EWMA) 2019.
We used their biofilm monster character as our central inspiration to catch attention. Instead of confining collateral to our designated area, we created fun footstep floor decals to place around the event, which led towards the symposium, and stickers for the toilet mirrors.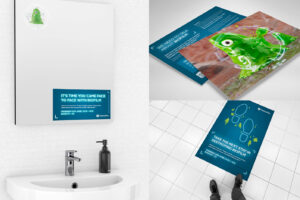 For another client, we even dreamt up and organised a display of real contortionists to mirror how flexible their product was – and it was a real talking point. If you let yourself be limited by the status quo, you miss out on your chance to steal the spotlight.
Don't be antisocial
So, you've invested in a killer booth, complemented by fantastic assets. Hundreds of attendees are bound to see how great it is. But don't let those three days be the sum total of your efforts.
With a little planning, you can hugely extend your reach through social media.
Beforehand, we recommend some teaser posts and an email to encourage sign-ups and intrigue attendees.
During, be sure to snap photographs, short videos, and make notes of interesting things you spotted or feedback you received. If you can, a couple of posts each day to show people how it's going and encourage last-minute visits can work wonders.
Afterwards, you can use lots of this content you've captured for social posts and blogs. So even people who didn't attend can see what an innovative and exciting brand you are.
These are our top suggestions for owning event season. But if you'd like some help with ideas or logistics for your next conference, drop us a message. As a specialist healthcare branding agency we'd be more than happy to help make it a success with you.